SIGHTSEEING TOUR, Monday, August 26th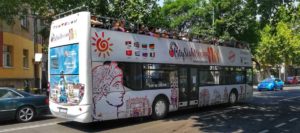 A sightseeing tour around Niš will be organized after the first working day, on Monday, August 26th, starting at 17:15h. That way you can see the city from bus with open roof for panoramic city sightseeing. Duration: 80 min. You can find more information here.
CONFERENCE DINNER, Tuesday, August 27th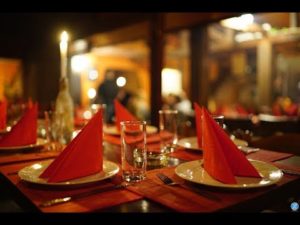 Conference dinner will take place in "Nišlijska mehana" restaurant, downtown Niš. It's the traditional restaurant offering all kinds of Serbian specialties.
EXCURSION, Wednesday, August 28th
National museum Kruševac, Lazarica Church, Princ  Lazar's town and Lazar's Sculpture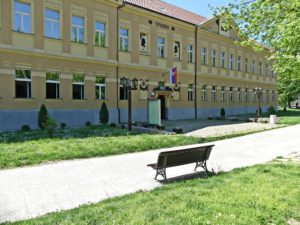 National museum Kruševac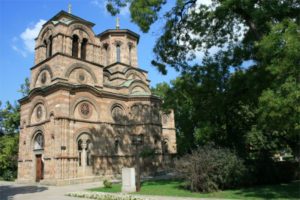 Lazarica Church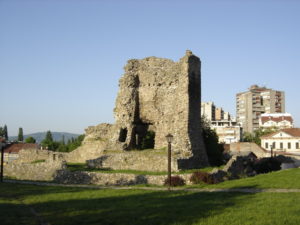 Princ  Lazar's town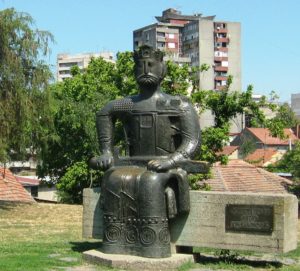 Princ Lazar's Sculpture
Ljubostinja monastery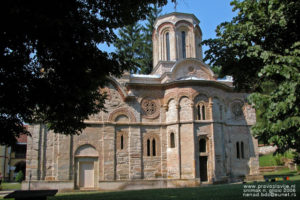 Ljubostinja monastery
Approximate timing for excursion:
| | |
| --- | --- |
| 0930 | Meeting in front of the Electronic Faculty |
| 0930 – 1045 | Travelling from Niš to Kruševac |
| 1045 – 1145 |  Visiting National museum Kruševac, Lazarica Church, Princ Lazar's town and Lazar's Sculpture |
| 1145 – 1230 | Travelling from Kruševac to Trstenik |
| 1230 – 1300 | Visiting Ljubostinja monastery |
| 1250 – 1320 | Travelling from Trstenik to Vrnjačka banja |
| 1320 – 1520 | Lunch in Vrnjačka banja, Restaurant "Kruna" |
| 1520 – 1700 | Travelling from Vrnjačka banja to Niš |
BATTLE OF KOSOVO
The Battle of Kosovo is particularly important to Serbian history, tradition and national identity.
The day of the battle, known in Serbian as Vidovdan (St. Vitus' day), is an important part of Serb ethnic and national identity, with notable events in Serbian history falling on that day.
The Battle of Kosovo took place on 15 June 1389. between an army led by the Serbian Prince Lazar Hrebeljanović and an invading army of the Ottoman Empire under the command of Sultan Murad Hüdavendigâr.
The armies met at the Kosovo field. 
The army under Prince Lazar consisted of his own troops, a contingent led by Serbian nobleman Vuk Branković, and a contingent sent from Bosnia by King Tvrtko I, commanded by Vlatko Vuković. Murad headed the Ottoman army, with his sons Bayezid on his right and Yakub on his left.
The bulk of both armies were wiped out in the battle, and both Lazar and Murad were killed. Although the Ottomans managed to annihilate the Serbian army, they also suffered huge casualties that delayed their progress.
As the battle turned against the Serbs, it is said that one of their knights, later identified as Miloš Obilić, pretended to have deserted to the Ottoman forces. When brought before Murad, Obilić pulled out a hidden dagger and killed the Sultan by slashing him, after which the Sultan's bodyguards immediately killed him.
LAZARICA CHURCH
Lazarica Church is a Serbian Orthodox church in Kruševac, Serbia. It was built in 1375-1378 as an endowment of prince Lazar of Serbia. Lazarica, as an outstanding achievement of the Serbian medieval architecture, was declared a Monument of Culture of Exceptional Importance in 1979, and it is protected by the Republic of Serbia.
Before the battle of Kosovo, the Serbian army came here to took holy wine and holy bread. Then, with princ Lazar, they started into battle of Kosovo. 
MONASTERY LJUBOSTINJA
After the Battle of Kosovo, Princess Milica, Lazar Hrebeljanović's wife,  became a nun along with a number of other widows of Serbian noblemen, who lost their lives in the battles on the river Maritsa and Kosovo Polje.
During the rebellion of Kočine, the people were invited on rebellion from the Ljubostinja monastery. After the collapse of rebellion, Turks burned the monastery to revenge the Serbs, and most of the frescoes were destroyed. Also, when the monastery was set on fire, a secret treasure was discovered hidden in the monastery wall, behind icons, in which the Princess Milica hid their treasure. Among the stolen treasure was located Crown of Prince Lazar, which is now in Istanbul.
The monastery was built from 1388 to 1405. In Ljubostinja were buried Princess Milica, (Lazar Hrebeljanović's wife and Nun Jefimija). Today, Ljubostinja is a female monastery, which preserves and maintains about fifty nuns.
You can find more information at following websites:
https://en.wikipedia.org/wiki/Lazarica_Church
http://www.serbia.com/visit-serbia/cities/krusevac-the-city-of-prince-lazar-surrounded-by-ancient-monasteries/
https://en.wikipedia.org/wiki/Ljubostinja